Homeopathic remedies for yeast infection:
Yeast infection and fungal infection are the similar terms. Candida Albicans is the common fungus cause Yeast infection. VulvoVaginitis is the common condition in women caused by Candida Albicans. Manila Albicans is another common fungus causes the yeast infection. Homeopathic remedies for yeast infection is very effective in permanent cure.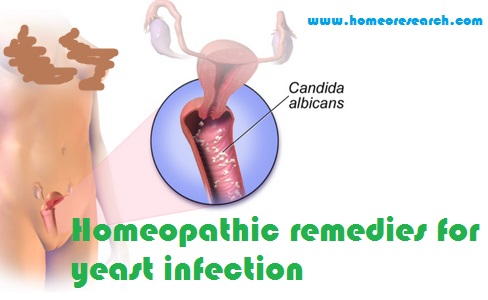 Causes of the yeast infection:
Low resistance is the primary cause of yeast infection or fungal infection.
Continuous exposure to dust is one other causes of fungal infection.
Severe anemia is also a cause of yeast infection.
Women during pregnancy are vulnerable to yeast infection.
Men habituated to Gutka and Pan Parag commonly affected by fungal infections.
Mouth in men and vagina in women are the common locations where the Candida Albicans usually grow.
Symptoms of the yeast infection:
The affected area becomes moist
Severe itching
oozing of a milky liquid from the affected area
Formation of white flakes of Candida Albicans over the affected area
In severe cases secondary bacterial infection
Fever and body pains
Homeopathic  Remedies for yeast infection:
Sepia is a homeopathic remedy most popular medicine for yeast infection:
Sepia is a women's remedy in general. This Homeopathic remedy often causes vulvovaginitis in women. The sepia woman always wants to cross your legs while sitting. This habit might the reason for the development of yeast infection in Sepia. She is also the very good Homeopathic remedy for other fungal infection like ringworm. Moreover, any kind of yeast infection unconditionally cured by Sepia. In addition, if any well-indicated remedy in Homeopathy failed to cure yeast infection, then Sepia is the best medicine.
Homeopathic Candida 30x:
Candida Albicans is the first-grade remedy for yeast infection. It acts wonderfully in case of virginities as well as yeast infection in the mouth. In my clinic, I use these candida albicans 30 and 200 pretenses regularly. This homeopathic remedy reduces dramatic result forest infections in the mouth. As well as vaginal yeast, infections cured with Candida Albicans. The Milky yellow vaginal discharge due to the Candid infection cured with Candida Albicans. Candida Albicans 30 is the best starting potency. In addition, Candida Albicans 200 also produces a good result when 30 potency failed. Moreover, the chronic ringworm infection often cured by Candida Albicans in 200 potency.
Candida homeopathic drops:
Homeopathic drops are available with the name of Candida. These drops prepared by mixing various Homeopathic medicines. Even though they contain lower potencies like 6x, 12 x, 30, it is not recommended because of the combination of too many remedies. In fact, Candida drops made from a single Homeopathic remedy, for example, Candida 6x or 12x is recommended. However, the use of Candida drops in homeopathy is limited when symptoms not matched. The homeopathic constitutional remedy for yeast infection can overpower the candidate drops in homeopathy.