About Me – Dr.Devendra Kumur MD(Homeo):
I am Dr.Devendra Kumar, I am a Homeopathic Physician. I pursued my BHMS degree from Dr.Gururaju Govt Homeopathic Medical College, Gudivada, and MD Homeopathy from JSPS Govt Homeopathic Medical College, Hyderabad, India.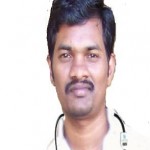 After completion of MD Homeopathy, I worked as Senior Research Fellow under Central Council for Research in Homeopathy, during this period I worked with Bhabha Atomic Research Centre scientists in Mumbai for 2 years; I was worked for the project "Fundamental Research "in Homeopathy.
Our study related to measuring physiological variability in Heart Rate and Blood Flow after giving Homeopathic medicine to human subjects with the equipment called Medical Analyzer, developed by biomedical division at BARC, Mumbai.
I was interested in research since the college days. I used to experiment on plants during my B.Sc study. After joining in BHMS my attention was diverted to Homeopathic medicines. Personally, I have developed a method of identifying Homeopathic medicines after experimenting with Homeopathic dilutions for 12 years. You can have more details regarding my work on the action of Homeopathic medicines at my blog on Homeopathic research
I wrote a book on Homeopathic Research " My Homeopathic Experimental life".
This book includes my 30 years of observations and 12 years of experiments with Homeopathic medicines. I invited a scientist Dr.Alex Hankey from the UK, he came to Hyderabad to investigate my research work during my MD(Homeopathy) study period. He was impressed by my work on the action of Homeopathic medicines.
Now I am in the process to develop a Homeopathic software based on my research work which could identify the Similar Homeopathic medicine for a suffering patient as soon as a sensor connected to the body. This software will see the light in a short time.
Research Blog:
Homeopathic Research blog contains Homeopathic Material collected during my Graduation and Post Graduation. This blog also contains information on my own research with Homeopathic Medicines. I have included all articles with the reference that I have researched, referred to while conducting research and treating patients. This will be a good resource blog for searching for information on Homeopathy.
Currently, in my clinic, I am working with data loggers and sensors to standardize the Homeopathic medicines and simultaneously treating patients.http://homeoresearch.blogspot.com
Passion towards Research:
I have a great passion for Homeopathic Research, I was worked with Dr.Nirupama Misra, Dr.K.C.Muralidharan at RRI, Mumbai under CCRH, Dr.Jindal, Biomedical division, Dr.Paranjape, Solid state physics in Baba Atomic Research Center, Scientists (BARC), Mumbai, I was worked as SRF under CCRH for the project Fundamental Research. An Exploratory Study on Scientific Investigations in Homeopathy Using Medical Analyzer. Our study is published in an international journal, the Journal of Alternative and Complementary Medicine (JCAM),UK.http://www.liebertonline.com/doi/abs/10.1089/acm.2010.0334
Right from the college days of BHMS, I was interested in Homeopathic Research.  I started to dwell on the subject of scientific evidence behind the action of Homeopathic medicine. I have been conducted many experiments with Homeopathic medicines, My research work is published in well-known websites,
My Research paper was approved for national and international seminars:
An Endeavor to Illustrate an Objective Evidence for the Action of Homeopathic Medicines by Measuring Physiological Variability in Human Body Temperature
Liga Medicorum  Homeopathic Internationalis, New Delhi, 1-4 December ( LIGA – 2011)
Seminar conducted by Indian Institute of Homeopathic Physicians, New Delhi, November(IIHP -2011),

I wrote a book on Homeopathic Research'My Homeopathic Experimental Life

http://www.homeopathyworldcommunity.com/profiles/blogs/day-24-of-30day-challenge

I actively participated in online Homeopathic discussion forums. My research work is appreciated by Homeopathic stalwarts like George Vitholcus, Robin Murphy, and Misha Norland. A scientist from UK Alex Hankey, Theoretical Physics was impressed and came to India to investigate my work.

DOWNLOADS FREE:
Research book:
https://drive.google.com/file/d/1nbI3GR5OTcL6nOt3yPHJItUQtsQ2tn4d/view
Research paper 1:
https://drive.google.com/file/d/1Dvh6QjDLgebrw4x6Nxz0jam6EAO_p0dO/view
Research Paper 2:
https://drive.google.com/file/d/1fIkHVH_GJvLukZnpMQs-7Zq6gCCn6W7g/view?usp=sharing

CASE SHEET:
https://www.homeoresearch.com/case-sheet-model-usha-homeopathic/

TREATED CASES:
http://homeoresearch.blogspot.in/search/label/Treatment

WEBSITES:
http://homeoresearch.blogspot.com
http://ushahomeopathy.com
http://homeoresearch.com

TESTIMONIALS:
http://homeoresearch.blogspot.com/2010/03/testimonials.html