Sepia Homeopathic Medicine Personality uses and Side effects:
The Sepia has a unique place in the Homoeopathic Materia Medica. In fact, this homeopathy drug Sepia effectively eliminates several types of diseases. Moreover, Sepia is a specialized homeopathic medicine for women. In this article, we will learn about the Sepia uses, dosages, and side effects.
First, we will learn how the Sepia is prepared in Homeopathy:
This homeopathic Sepia made from an ink of a sea creature called cattle fish. Previously, these inks used in paintings. The painters habitually took this Sepia ink into the mouth. In this case, the consequences of this Sepia were under threat. Such a thing is that the homeopathy earlier been cured its side effects.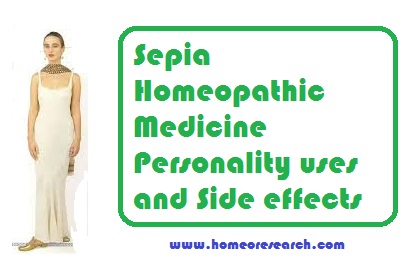 Now let us know how Sepia's mind mentioned in Materia Medica:
As mentioned earlier, this Sepia homeopathic medicine is particularly useful for women. Sepia women are the most sensitive minds and the more they are more excitable.
They usually do not prefer to have fun and to be with the people, they do not give up. They behave strangely to anyone who loves them too. These Sepia women are more aggressive when they say of their sorrows. Things like ghosts, thunder, and poverty are terrifying.
Dancing is a big thing for them.
General features of Sepia Personality:
These Sepia women do not fall for chilly weather as mentioned in the Materia Medica.
Being overly engaged in some work makes them happy.
This Sepia successfully used in traumatic events that occur before and after menstruation in women.
The sepia homeopathy is excellent for menstruation and then pregnant hormone problems.
Sepia is also highly useful for post menopause symptoms.
Sepia is important homeopathic medicine for the symptoms that usually occur from 2 pm to 5 pm.
The Homeopathic remedy Sepia provides a good cure for the trauma that occurs during coitus.
Sepia is one of the most important homeopathic drugs for left-handed infections, diseases that occur in people who live next to the ocean.
The Sepia is very useful for the symptoms that develop every 28 days.
Sepia is greatly useful for those who are addicted to drugs and those who try to forget the problems of being overly godly.
Let us learn about favorite foods for sepia Personality:
Sepia women love sweets. They also like chocolate, vinegar, sour ingredients, salt ingredients, pastries, and stimulants such as alcohol.
When it comes to things that they do not like, the content of the high oil is.
The headache of the sepia homeopathy medicine comes to the left side. In addition, the pain over the eye is on the left side. Their headache relieved when moving. Sepia can be a great homeopathic medicine if a headache during menses and fasting.
Long-term cold can also be prevented by Sepia homeopathy medicine. These include the posterior nose discharge.
Face symptoms of Sepia Personality:
Especially breaking the lips is the symptoms of this Sepia personality. It is common for people to break into the mouth corners and to break through the lips. Sepia can become a great medicine if rashes on the lips after fever.
Like in the case of Lachesis, Sepia women cannot bear the cloth around the throat.
 Learn about Sepia abdominal diseases:
The absence of appetite and the presence of vomit is a symptom of the sepia. Being vacant in the stomach is a symptom of sepia as well as after eating.
Sepia works wonderfully if Nausea and vomiting are present during pregnancy.This type of vomiting is especially high in the morning. In addition, when the food is found, pregnant women vomit.
Brown spots on the stomach help find Sepia women. The stomach of Sepia women is bloated and stretched.
Sepia is excellent medicine for constipation in women during pregnancy. The feature of the sepia is the sensation of a lump in the large intestine. Sepia is a great homeopathic medicine for diseases such as itchy and cancer in large intestines.
 Let us know the symptoms of urine in Sepia women:
Urine does not stop on smiling, coughing and sneezing. Sepia is an excellent remedy in homeopathy for bedwetting in children during first sleep.
Sepia is a great homeopathic medicine for erectile dysfunction problems, warts, and prostate gland.
What specifically mentioned about sepia at Homeopathy Materia Medica for Women's Diseases:
Sepia women do not like participation in sex. They are not satisfied with having sex in the original. The woman's vagina becomes stiff and frigid. Participating in sex can cause tremendous pain that tends to endure the pain of the vagina.
This homeopathy drug sepia is excellent for symptoms of infection in vagina and leucorrhea
Sepia is excellent homeopathy medicine for the symptoms of pregnancy in women.
Sepia women sit on their legs crossed.
The Sepia is an excellent homeopathic drug for symptoms of menstruation, such as pain in the stomach during menses.
Sepia is a great Homeopathic medicine especially for frequent abortions during the third month or the fifth month. When Sepia women are pregnant, the kid movements are sensitive.
Check out the symptoms of the chest in Sepia Personality:
Chronic dry cough is frequent in Sepia women.
Diseases like asthma relieved after dancing. Flat breast is a special feature of Sepia females. Sepia is a wonderful drug in homeopathy for the symptom of milk absorption and milk drying.
More features of Sepia Personality:
You might have heard about the Reynolds disease. In particular, fingers in the females can become gangrene. Sepia is the better cure for the above features. Sepia prevents symptoms of hands that are cool in the evening.
Let us learn about Sepia's skin diseases:
Sepia can effectively cure skin infections related to eczema and herpes.
Sepia is an excellent homeopathic medicine for Psoriasis, Vitiligo, and dermatitis. For psoriasis during winter, Sepia can be Special. Sepia can easily cure skin diseases, such as skin dryness, rash on the skin and thickness.
Sepia's dosage and potency details:
This homeopathy medicine called Sepia works from potency, for example, 30c, 200c, 1m, 10m, and CM and LM potency. Sepia 30c potency or any other potency, two pills should consider a dose. The second dose should not take up to fifteen days after taking a dose.