– S. Nielsen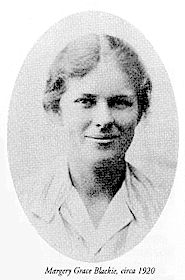 Margery Grace Blackie grew up surrounded by homeopathy. She was routinely treated homeopathically as a child and her uncle (who died when she was three) was Dr. James Compton Burnett, a great proponent of homeopathy. The youngest of ten children, she was born on February 4, 1898, in Redbourn, Hertfordshire.
In 1911 she and her family moved to London and she spent her teenage years growing up in the city. When she was sixteen, the war was declared and even though she was busily preparing to enter the matriculation form in preparation for medical school, she and all her classmates spent the school days knitting socks, mufflers and mittens for the soldiers. In 1916, she passed the London University exam. The five year old Margery's wish to become a doctor was soon to be realized. At the age of nineteen, in 1917, she began her general medicine training at the School of Medicine for Women at London University -the only medical school in London at the time offering complete training for women.
In 1923 she sat for, and failed, the final tests in Medicine, Surgery and Obstetrics. She tried again and again and finally passed in 1926. Two years prior to this, she had started working as a resident at the London Homeopathic Hospital. Despite the years at orthodox medical school, she was strongly inclined towards homeopathy and said on one occasion: "In my teaching hospital, when I saw patients dying, I didn't have the satisfaction that the others had of believing that everything possible had been done. I felt they hadn't had the only thing that might have cured them."
Another story which affords us a glimpse into her convictions and personality goes as follows: One day on rounds at the allopathic teaching hospital with the Chief, Blackie was asked what she would prescribe for a patient. "Whether I forgot where I was or whether it was bravado, I know not; but I replied Nux vomica. My friends grew pale with fright but nothing happened. Passing in the corridor later he stopped me and said, 'a very good idea. I always carry it', and pulled from his waistcoat pocket two small bottles of pills -one Nux vomica and the other Carbo veg.
At the age of twenty-six she became House Physician at the London Homeopathic Hospital. The hospital was staffed almost entirely by men. She worked with Drs. J.H. Clarke (who had joined the staff in 1881), Charles Wheeler and her mentor, Douglas Borland. In 1926 she opened a private practice and at the age of thirty she attained senior status in the medical profession by becoming a Doctor of Medicine. She was the only woman candidate at the University of London in 1928 to be awarded this distinction.
There now followed twenty years of successful private general practice. However, she also continued to work at the LHH, especially in the children's department and the out-patient department. It was here that she worked with Margaret Tyler, who was a dominant figure in the hospital at this time. In 1949 she was elected president of the British Homeopathic Society and held this post for three successive years. In the mid-1950s she was the editor of the British Homeopathic Journal for one year, and also served in the LHH on the Committee for Research and Drug Provings and the Committee for Education.
Her crowning achievement in these later years was succeeding Sir John Weir as Royal Physician. This took place in 1969. She continued working at the newly named Royal London Homeopathic Hospital until the age of sixty-nine at which time she became an honorary consultant there (1965). In 1964 she was elected Dean of the Faculty of Homeopathy, a post that she held until her resignation at the age of 81. She died on August 24, 1981.