– BOUKO LEVY M.,
Extremely spasmodic
(See also remedies already described and See : asthma)
— violent, dry attacks with rapid suffocation; long-lasting attacks; blue lips; chest oppression; agg. cold air; amel. swallowing small amounts of cold water :
• 3 granules, as needed : CUPRUM METAL 5C
• or one dose : CUPRUM METAL 9C
— sudden attack of painful suffocating cough; amel. at seashore and by cold drinks :
• 3 granules, as needed : BROMUM 5C
— extremely violent attacks with laryngeal spasm; agg. during night :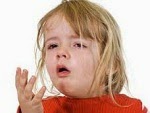 • 3 granules, as needed : MEPHITIS 4C
— abrupt attacks toward midnight; suffocation with nose obstruction :
• 5 to 20 drops, every 1 or 2 hours, as needed : SAMBUCUS NIGRA M.T. or one dose : SAMBUCUS NIGRA 9C
Much mucus
— bronchitis, pneumonia :
(See also remedies already described)
• ANTIMONIUM TARTARICUM 4C, HEPAR SULFUR 5C
repeated attacks bringing out large quantities of whitish thick viscid mucus vomited with suffocation; agg. at night, 11.30 P.M. , 3.30 A.M. , and heat, especially of bed :
• 3 granules, as needed : COCCUS CACTI 5C
— short violent and suffocating barking cough, which quickly exhausts; profuse posterior nares discharge; red face; agg. by cold :
• 3 granules, as needed : CORALLIUM RUBRUM 5C
See : adenoids, air, allergy, anxiety, asthma, bronchitis, cold, coryza, cough, eye, emphysema, expectoration, fever, hayfever, heart, heat, hiccough, infections, itching, laryngitis, nervousness, nodes, nose obstruction, odors, otitis, oxyuriasis, pains, parasitism, rhinopharyngitis, sensations, since, sinusitis, sneezing, tetany, vaccination, weeping.