– BOUKO LEVY M., Homeopathic and Drainage Repertory,
Anxiety Neurosis is a frequent disorder
that has physical manifestations characterized by a localized spasm surrounded by a general constricting sensation with feeling of death.
Oppression, suffocation, palpitations, hypotension, fainting attacks, cramps, numbness, pins and needles are the symptoms.
The patient has the anxious feeling that they cannot control their enormous energy unless they faint or they die.
The symptoms are recurrent, like seasons, menses,
lunar cycles
, and are always related to a manic-depressive anxiety.
The reactive mode is tuberculino-luetic, with a tendency to sycosis when the attacks are chronic.
It is a perfect field of action for homeopathic remedies.
Acute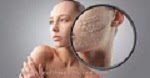 — the main remedy for spasms and cramps, chest constriction, muscle jerking and twitching, hand coldness; agg. before menses, by least contact and vomiting, amel. drinking cold water :
• 3 granules, as needed : CUPRUM METAL 5C
— hysterical and extremely fearful; limbs trembling and weak; chest oppression, palpitations; glottis spasm; drowsy headache with heavy eyelids, dim vision :
• 3 granules, as needed : GELSEMIUM 5C
— all kinds of cramps in limbs with stiff and weak extremities and numbness, amel. warmth and friction; spasmodic cough; asthma; angina pectoris-like syndrome, extreme chilliness, agg. evening and after dinner :
• 3 granules, as needed : MAGNESIA PHOSPHORICA 15C
— trembling with palpitations; easy to faint during and after stool; irrisistible drowsiness; hysterical; rheumatism, gout :
• 3 granules, as needed : NUX MOSCHATA 5C
— night terror with chest constriction and pain on left side :
• 3 granules, as needed : SOLANUM NIGRUM 5C
— paralytic neuralgia with extreme coldness (sweat); anxiety in pit of stomach; melancholy with delusions; agg. night :
• 3 granules, as needed : VERATRUM ALBUM 5C
Background
Trace elements
• one dose, daily :
alternate every other morning : COPPER GOLD SILVER, or PHOSPHORUS
evening : MAGNESIUM
Phyto and gemmotherapy
• 20 to 50 drops, daily :
morning : AESCULUS HIPPOCASTANUM BUDS 1X
evening : PIPER METHYSTICUM M.T.
Organotherapy
• 40 drops, in the evening :
— calcium metabolism :
• MEDULOSS / PARATHYROIDINUMINUM / a.a. p. 4C
— nervousness :
• alternate every other day, 20 to 40 drops :
even days : PARASYMPATHETIC NERVE 4C
odd days : CORTICOHYPOTHALAMIC AXIS 7C
Mineral salts
• homeopathic spoons 1 to 3 times a day : CALCAREA CARBONICA 3X
Essential satellites, hysteria
— all rises up from stomach through esophagus to throat :
• 3 granules, as needed : ASA FOETIDA 7C
— nervous sudden spasms, hiccough, asthma, etc, fainting attacks :
• one dose, as needed : MOSCHUS 9C
— essential nervous tranquilizer :
• sensitive; restless; irritable; intolerable pains with numbness :
20 to 40 drops, 1 to 4 times a day : CHAMOMILLA 3X
• loquacious; violent; delusions; all kinds of terrors :
20 to 40 drops, 1 to 4 times a day : STRAMONIUM 3X
• hysterical flatulence and limbs spasms in limb; irritable; anger :
20 to 40 drops, 1 to 4 times a day : VALERIANA 1X
Essential polychrests
— thin subject :
1st NATRUM MURIATICUM 15C
2nd PLATINA 15C
3rd NATRUM PHOSPHORICUM 15C
4th AMBRA GRISEA 15C
— heavy subject :
1st CALCAREA CARBONICA 15C
2nd NUX VOMICA 15C
3rd NATRUM CARBONICUM 15C
4th SULFUR FLAVUM 15C
Barriers
(See :since, vaccination)
One dose, as needed :
• TETANOTOXINUM 2OO (do not repeat often)
Spasms
Abdominal muscles
— amel. bending forwards :
• related to anger, indignation, pregnancy : COLOCYNTHIS 5C
• child, adolescent : MAGNESIA PHOSPHORICA 5C
— with extreme restlessness :
• essential remedy for muscle contractions : CIMICIFUGA 5C
• peri-umbilical pains in peevish children, oxyuriasis : CINA 5C
• with face and lips cyanosis : CUPRUM METAL 5C
Anus
(See :constipation)
— first stool hard, then soft, ineffectual urging :
• LYCOPODIUM
— dry, torn, burning and bleeding :
• NATRUM MURIATICUM 15C
— frequent ineffectual urging :
• NUX VOMICA 5C
Bladder
(See :urination)
— inability to retain urination; cutting pains :
• HEDEOMA 3X
— pains along crural nerve and genital exterior :
• PAREIRA BRAVA 3X
— many efforts before urination appears; neuralgia :
• PRUNUS SPINOSA 3X
— from first sexual relations; prostate :
• STAPHYSAGRIA 4C
Extremities
— the essential remedy :
• 3 granules, as needed : CUPRUM METAL 5C
— hand, while writing :
• ANACARDIUM ORIENTALE, CYCLAMEN, GELSEMIUM, MAGNESIA PHOSPHORICA, NATRUM PHOSPHORICUM
— fingers :
• ARNICA, CHELIDONIUM, CUPRUM ARSENICOSUM, MAGNESIA PHOSPHORICA, MERCURIUS SOLUBILIS, NATRUM MURIATICUM, STANNUM METAL, SULFUR FLAVUM
— toes :
• in general (See : fingers and underneath) :
• CAUSTICUM, CHAMOMILLA, FERRUM METAL, LYCOPODIUM, PHOSPHORIC ACID, SECALE CORNUTUM
• in bed, during night :
oversensitive, sanguine subject : NUX VOMICA 5C
exhausted subject, old people : ARSENICUM ALBUM 5C
• alternating with spasm of glottis : ASA FOETIDA 7C
• menopause (various spasms and rheumatic pains) :
ANGUSTURA, CIMICIFUGA, HYOSCYAMUS, MOSCHUS, PLATINA, STRAMONIUM, TARENTULA HISPANA, VERATRUM ALBUM
• pregnancy (See also the other remedies) :
CALCAREA CARBONICA (6X, daily, and 9C, weekly)
Eye
— occular muscles and eyelids :
(See :tics)
• accomodation spasm; dim and flickering vision :
3 granules, as needed : AGARICUS 5C
• pupils dilated; diplopia; lids spasms by least touch, jar, and light :
3 granules, as needed : BELLADONNA 5C
• pupils dilated; strabismus; melancholy and spasmodic delirium :
3 granules, as needed : CICUTA VIROSA 5C
• quick rolling of eyes (See also the other remedies) :
3 granules, as needed : CUPRUM METAL 5C
• dilated and fixed pupils; spasmodic closing of eyes; strabismus :
3 granules, as needed : HYOSCYAMUS 5C
• pupils contracted; ocular muscle twitching; ciliary muscles spasms; night blindness; increasing myopia; glaucoma :
3 granules, as needed : PHYSOSTIGMA 5C
— eyelids :
• thin exhausted patient from acidity, rheumatism, eczema :
3 granules, 3 times a day : NATRUM PHOSPHORICUM 6X
• string sensation through eyeballs; headache; loquacity :
3 granules, as needed : PARIS QUADRIFOLIA 4C
Larynx
(See :laryngitis, sensations)
• ARGENTUM NITRICUM, IGNATIA, MOSCHUS
Stomach
(See :vomiting)
— in general :
• essential remedies :
ASA FOETIDA, NUX VOMICA
• headache; empty feeling and dyspepsia; chest oppression with anxiety and palpitations; all symptoms amel. from eating :
3 granules, as needed : ANACARDIUM ORIENTALE 5C
• stomach feels as if hanging down; constant nausea and vomiting; cutting pains around navel; limbs jerking; asthma :
3 granules, as needed : IPECA 5C
• stomach constriction with ravenous hunger; umbilical pains extending to back and pelvis, with coldness and numbness :
3 granules, daily : PLATINA 5C
— esophagus :
• see also remedies above and below :
ASA FOETIDA, IGNATIA, PLATINA
• related to heart symptoms, low blood pressure and depression :
3 granules, as needed : NAJA 5C
— cardia :
• essential for old people dyspepsia; painful lump sensation above pit of stomach comes after eating; tachycardia :
3 granules, 3 times a day, as needed : ABIES NIGRA 5C
• trembling and throbbing in stomach with radiating pains; enormous and painful distention, amel. by gas eructations :
3 granules, as needed : ARGENTUM NITRICUM 5C
• ball sensation; sinking in stomach, amel. by taking a deep breath :
3 granules, as needed : IGNATIA 7C
Throat
— acute disease, such as tonsillitis, bronchitis, etc :
• BELLADONNA, CANTHARIS, LAC CANINUM, LACHESIS
— nervousness :
(See also below)
• CUPRUM METAL, HYOSCYAMUS, IGNATIA, STRAMONIUM
Uterus
(See :menses, bearing-down sensation)
— anger dominates the woman :
• 3 essential remedies, from 5C to 30C :
CHAMOMILLA, COLOCYNTHIS, PLATINA
— extremely anxious and fearful; labor pains with frequent eructations; itching and burning leukorrhea; endometriosis :
• 3 granules, as needed : BORAX 5C
— labor-like pains, needle-like in cervix; spasmodic dyspepsia with heart symptoms; small joint rheumatism; thrush :
3 granules, as needed : CAULOPHYLLUM 6X
— depression :
• 2 essential remedies
CIMICIFUGA 9C, VERATRUM ALBUM 9C
• voluptuous itching of genital exterior; nymphomania; timidity :
one dose, as needed : AMBRA GRISEA 9C
• spasmodic states with chronic dyspepesia (See : gallbladder); intolerance to milk; palpitations; neuralgias; agg. at seaside :
3 granules, as needed : MAGNESIA MURIATICA 7C
See : anxiety, capricious, colitis, constipation, delivery, delusions, depression, diarrhea, dreams, dyspepsia, epilepsy, emotional, eructations, excitement, faintness, fears, flatulence, gallbladder, gastric ulcer, hiccough, jealousy, laryngitis, menses, nervousness, neuralgia, pains, pregnancy, restlessness, sensations, since, vomiting, weeping.