– Dr. A.K. Dwivedi, BHMS, MD, MBA,
Homeopathic Physician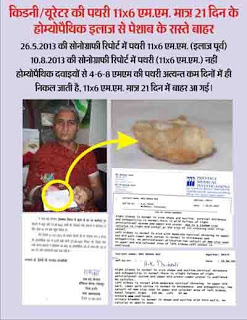 A female patient (
Radha Bai ) comes to my clinic with a sonography report showing renal stone of
11 X 6 mm
and with other
small multiple stones in her sonography report
with complain of
pain & Burning micturation, vomiting loss of appetite weakness fever last
15 days
patient was unable
to perform her daily routine work.
after going through
her sonography report I told to their relatives that It is Impossible that this
much large size stone will pass out but I will definitely try for the other
small stones to pass from urinary passage with help of my Homeopathic medicines
they were asking me
about surety of treatment i.e. guarantee
otherwise they are
ready for operation for the stone but problems was multiple stone some surgeon
told them that it is not possible to remove.
as she was the
employ of Govt. Hospital she was not ready for operation.
I explained them
type of stone and causes of multiple stone formations.
on the basis of her
symptoms totality
I prescribed
her
Calc.ost 0/1
1 tsf Qid with 1
glass of water
Berbers Vulgaris
Q
1 tsf Qid
with 1 glass of warm water
Medorrinum 1m 1dose
daily
for 7 days
after seven days
patient again visit my clinic with no further complain.
again I had repeat
same prescription for 15 days
after then patent
was advised for sonography
then she come with
her sonography report and with stone passed out with urine
it was very exciting
to sonologist and even I to see a stone of 11 X 6 mm such a huge stone passed
out from her urine
she had few small
stones in her sonography with no complaints
I had given her
conservative treatment for another 15 days
She was very happy
and surprised with
the result of Homoeopathy.
We had send the
stone for chemical analysis so that type of stone can be understood
and for further
formation of stone things (food ) to be avoided on the basis of chemical
analysis(Types of Stone)
————————————————-
Dr. A.K. Dwivedi
9826042287
BHMS, MD, MBA
—————————————————————-