– BERNARD H,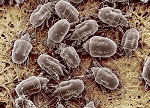 If Psorinum was formerly in great vogue among the partisan physicians both of the Hahnemannian psora and isopathy, it is to-day almost entirely rejected. Behold in what terms Griesselich † condemns it, even thirty years ago : "With the exception of Psorinum, not a single isopathic substance has been examined in its pure effect. Even the attempt with it is without any affinity and without any utility for practice; Trinks, Noack and Muller were right not to insert it in their Materia Medica."
This is not the place to discuss the questions of psora and isopathy. We will not deny that, personally, we have very little confidence in Psorinum, the uniformity of which even, as a substance, does not appear to us to present any points for discussion. There has been, and there is still, in our school, physicians, well informed and of whose honesty there is not a shadow of a doubt, who are ready to prescribe Psorinum conscientiously.
The clinical collections of Rueckert mentions the employment of this substance in the treatment of hernia, chancres, hydrocele, urticaria, itch, eczema, and various affections of the hair. In his brief indications for the treatment of constipation, Rueckert writes among others the following lines : "In chronic constipation, especially Lachesis, Lycopodium, Natrum mur., Veratrum; for intestinal torpor, Opium and Plumbum; if it is especially due to the rectum, Opium and Psorinum."
Beauvais notes the employment of Psorinum (or Psorinum) in a large number of clinical observations. They are constipation, chronic exanthemata and troubles with the intestinal tract, chronic hepatitis, haemorrhoids and constitutional diseases of various degrees and forms.
Case 49
A young child, 3 years of age, had already suffered since birth with attacks of constipation which would last three or four days and were due to inactivity of the rectum; the stool on the third or fourth would be very painful, and accompanied with severe pains, which induced the patient to withhold the effort as much as possible. In Oct., 1833, I gave Sulphur30; the stool was for a single time without pain and then the constipation returned. I gave Alumina30 which had an effect for some time. March 8, 1834, the constipation returned in the same degree; this time the Alumina gave good effects, but only till the first part of April, when the complaints were renewed. The remedies given had no effect. I then gave Psorinum30 and there were fourteen days of quiet; finally Opium6 two drops in water, a teaspoonful every two hours; but I was compelled to return to Psorinum. It removed the trouble, for a year has elapsed since then and the stool is constantly in good order. – Dr. Alther.