Homeopathic Remedies for Paralytic Ileus article by Dr.Devendra Kumar Munta MD(Homeo)
Paralytic Ileus is a condition in which intestines become inactive due loss of nerve intact. Causes are many, vary from simple inflammation to surgical complications. Symptoms of Paralytic Ileus Include:
Abdominal swelling, distension or bloating
Diarrhea
Foul-smelling breath
Gas
Lack of bowel sounds
Nausea with or without vomiting
Stomach pain and spasms
Converting the above symptoms into Homeopathic Language: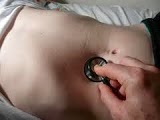 Paralytic Ileus
ABDOMEN – DISTENSION
RECTUM – CONSTIPATION
RECTUM – DIARRHEA
MOUTH – ODOR (breath) – offensive
STOMACH – NAUSEA
STOMACH – PAIN – cramping
ABDOMEN – PARALYSIS of intestines
Repertory Remedy Chart for the disease condition Paralytic Ileus:
Arsenicum album,
Natrum Muriaticum,
Sulphur,
Phosphorus,
Plumbum Metallicum,
Calcarea carbonica,
Carbo Vegitabulis,
Lycopodium,
Carbo Sulphuricus,
Cinchona(China),
Graphites,
Lachesis,
Nux Vomica,
Silicea,
Bryonia , are the leading remedies in this condition.
Silent abdomen with Burning pain supports the
Phosphorus
. while severe Constipation with Foul breath is the indication for Plumbum Metallicum. A dose of Homeopathic Remedy along with General Management can save the life.