– BERNARD H,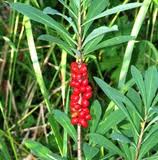 Stools
Hard, brown, ball-shaped; Dark-brown, in knots, very hard balls.
Before stool
Creeping chills, languor and great sensibility to cold air; Copious discharge of fetid flatulence.
During stool
Painless straining; Prolapsus recti; Anus becomes painful and constricted about the fallen rectum; Difficult alvine evacuations of the consistency of a thick broth, with pressing desire.
After stool
Sensation of constriction, with tenesmus; Chill over the whole body; Fissure of the anus.
Case 28
A woman who was approaching the years of the climaxis, suffered continually from extraordinary congestions to the head, with burning redness of the face, obstinate constipation. Menses always very copious and too soon. Calcarea, Carbo veg., and Bryonia, relieved only for a tome. Last autumn, she was attacked with fearful pains in four hollow teeth which left her no repose either day or night. The carious condition of the teeth and the general chilliness during the pains led me to give Mezereum3. The pains in the teeth were cured and the constipation remove. – Dr. Veith.