Homeopathic remedy for Heart Disease:
The heart muscle works with clock-like precision. It directly related to the nervous system and the abdominal organs. Heart connected to its surrounding organs by the diaphragm and the parasympathetic system. In all nervous cases, homeopathic treatment will bring about good results. Here in heart disease also Homeopathic remedy works no doubt. However, in this case, the homeopath must follow the condition of the patient with the help of a cardiologist.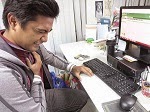 Homeopathic Medicine for Heart Disease with Palpitations:
Ignatia helps in heart diseases with ball-like sensations in the throat. Least emotions worsen the heart problems especially indicates Ignatia.
Gelsemium is also benefited in heart troubles with trembling all over the body. Here the important key point is, the person 'must keep in motion, if not feels heart would stop throbbing. Spigelia also helps in the treatment of heart diseases especially with palpitation and neuralgic pains.
Lying on the right side with head high relieves the Violent heart palpitation especially suggest this Homeopathic medicine. Argentum Nitricum is chiefly the Homeopathic remedy for fear of heart disease. It benefits especially in heart troubles for persons of many fears. Lying on the right side causes heart palpitation in this case.
Ambra Grisea is a Homeopathic heart remedy for extremely emotional and timid persons. Eructations and asthma in particular related to heart diseases in these persons.
Homeopathic Remedy for Heart disease with Digestive disorders:
Carbo Vegetabilis helps in the heart complaints of any nature with flatulence. Those people with heart complaints who cannot bear tight clothing need this Homeopathic medicine. Moreover Carbo Vegetabilis is a very good remedy for heart diseases in old people.
Asa Foetida is the Homeopathy medicine for heart troubles in hysterical women. A ball-like sensation in throat particularly at night suggests this remedy. Open-air exposure always relieves complaints of heart in Asafoetida patients.
Abies Nigra on the other hand, works in heart diseases of elderly people of dyspeptic disorders. Tachycardia and Bradycardia are the symptoms frequently indicate this Homeopathic medicine.

 Mandragora is a useful remedy in heart diseases especially with flatulence and cold extremities. The important key point here is the lazy and spasmodic gallbladder.
Homeopathic medicine for Heart disease during pregnancy:
Lilium Tigrinum is the remedy for heart excitability with uterine reflex. Uterus prolapse and anteversion are other symptoms in relation to heart diseases in this Homeopathic remedy.
Conium is a useful Medicine for chest oppression and constriction. The people with heart diseases who desire to stay in the dark need this Homeopathic medicine. Another key point is old people reluctant to eat food with heart problems can cure with Conium.
Pulsations shake all the body, on the other hand, suggest Natrum Muriaticum. In addition, the sensation of coldness in the heart region needs this Homeopathic medicine.

Sepia is the Homeopathy medicine for violent palpitations throbbing in all arteries. It helps in the cure of heart disease that relieves after violent exercise. It is a kind hysterical manifestation.
Also, see Homeopathic Medicine for Arthritis in Hands, Finger Joints, Knee
Homeopathy remedy for Heart disease with a weak pulse:
Crataegus is the Homeopathic medicine for heart disease with an accelerated and irregular pulse. Feeble and intermittent pulse in the worm room also suggests this Homeopathic remedy for heart complaints.
The weak and slow pulse from the least motion, on the other hand, needs Digitalis. Mitral valve diseases are curable with Digitalis.
Naja is the Homeopathic remedy for heart disease in those who feel suffocation with a slow pulse. Low blood pressure with heart troubles always needs this Homeopathy medicine. Weak, irregular, and tremulous pulse also suggests Naja for heart diseases.
Homeopathic remedies for Heart troubles according to the lying down position:
Heart complaints usually worse after lying on right need:
ALUMINA
ARGENTUM NITRICUM
LILIUM TIGRINUM
Laying on the left side increases the problem:
CACTUS GRANDIFLORUS
GRAPHITES
LACHESIS
LYCOPODIUM
NAJA
NATRUM MURIATICUM
PHOSPHORUS
PULSATILLA
SPIGELIA
TABACCUM
Homeopathic medicine for heart pain Nervous origin:
Pressure in the chest as if obstructed with palpitations needs Ambra Grisea for heart pain. Argentum Nitricum is the Remedy for painful spots in chest especially at night. On the other hand, pain under the left breast with left arm numbness needs Cimicifuga. Cuprum is the Homeopathic medicine for anxiety in the heart with pain. Heart pain from the least motion with pericarditis needs Spigelia in Homeopathy.
References:
Bouko Levy M, Homeopathic drainage repertory