Back Pain Homeopathic Medicine – Remedy Finder
Back pain is a most distressing problem as it interferes daily activities. One has almost disabled with severe back pain. Homeopathic medicine cares for upper back pain as well middle and low back pain. Overall the homeopathic medicine meant for relieving the spasm of back muscles. As a result, homeopathic remedies are also able to cure sciatica. Slip disc is another condition where homeopathy medicine works excellent. The pressure that put down as a result of slip disc on the spinal cord can cure with homeopathy medicine.
Back pain can classify into upper, middle, and low back pain. Upper back pain actually includes neck pain or cervical spondylitis. As a matter of fact, Middle back pain consist dorsal pain, which radiates to ribs and chest. Low back pain, on the other hand, consists lumbar pain. Moreover is the cause of lumbar spondylosis and sciatica. Muscle spasm is the reason for slip disc in most cases. Slip disc is possibly the origin for any of the above three back pains. Leg pain due to sciatica is one another condition where homeopathic medicines work wonders. Rhustox is one excellent remedy in homeopathy for acute back pain.
Slip disc brings about pressure on spinal cord it will produce sciatica pain. Back pain is also a source of leg pain, on the other hand, it arises due to sciatica.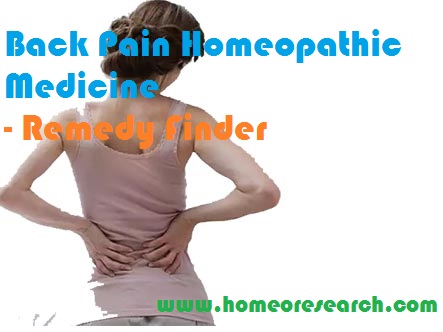 We feel pleasure to inform you that in this article, we are presenting a Homeopathic Remedy finder for your Back pain.
Homeopathic medicines for back pain:
Pulsatilla Homeopathic medicine for upper back pain cure with no thirst and mild gentle persons:
Pulsatilla is an excellent remedy to cure neck pain or cervical spondylosis. In fact, it cures upper back pain irrespective of the cause. It might be split disc or muscle spam or degeneration. Pulsatilla cures neck pain of all types wonderfully. However, the reason is the patient who needs Pulsatilla homeopathy remedy for upper back pain must thirstless. Moreover, Pulsatilla patients are easily weeping in nature with upper back pain. Sometimes, Pulsatilla homeopathy for upper back pain produced the exciting result in our clinic irrespective of the symptoms.
Phosphorus is a wonderful homeopathic medicine for middle back pain in tall and lean person:
Phosphorus works extraordinarily for middle back pain. This homeopathic remedy produced excellent results in our clinic. A single dose of phosphorus 200c in homeopathy brought the remarkable cure for middle back pain. Nevertheless, the phosphorous works wonder in tall and lean persons. The phosphorus 200 works in middle back pain patients with the thirst for cool water and cool drinks. The Phosphorus patient with back pain in the middle often suffers from gastritis.
Kalium Carbonicum an extraordinary homeopathic medicine for low back pain with the imbalance in serum electrolytes:
Kalium Carbonicum works wonder in homeopathy for low back pain. The kalium carbonicum low back pain patient as like phosphorus for middle back pain suffers from gastritis. However, the kalium Carbonicum low back pain persons experience profuse sweating. This homeopathic remedy for low back pain helps when the patient has low BP due to the mineral deficiency. In our clinic, we used kalium Carbonicum for low back pain with good success rate. In fact, the kalium Carbonicum works in homeopathy for low back pain only when the patient suffers from weakness, sweating, and back pain.
Calcarea carbonica is good homeopathic medicine for back muscle spasms with sweating in the head:
Back Muscle spasm is the cause of slip disc and back pain as mentioned above. The homeopathic medicine called Calcarea carbonica is a wonderful remedy for back pain due to muscle spasm. The Calcarea carb patient also suffers from profuse sweating. Unlike kalium Carbonicum patients with low back pain, Calcarea carb patients have sweating from the scalp. Calcarea carb in homeopathy especially useful for back muscle spasm when the patient suffers from Calcium deficiency.
Rhustox for acute back pain homeopathic medicine:
Rhustox is useful for back pain due to overexertion. The Rhustox produces fact relief for back pain, unlike above chronic remedies.
The above discussion on homeopathic medicine for back pain explained the below points:
Homeopathic medicine for upper back pain: Pulsatilla is the best homeopathic remedy for upper back pain that means cervical spondylosis.
Homeopathic medicine for middle back pain: Phosphorus is very good homeopathic medicine for middle back pain in our experience.
The Homeopathic medicine for back muscle spasms: Calcarea carbonica is an extraordinary homeopathic remedy for muscle spasms in back.
Homeopathic remedies sciatica: this is another chapter. Readers suggested searching in this site for sciatica homeopathic remedies. However, Lachesis, Phytolacca Berry, and Colocynthis are best useful homeopathic remedies for sciatica.
Homeopathy medicine for slip disc: Kalium Carbonicum is again the best homeopathic remedy for slip disc, it produces fast relief.
Rhus tox for back pain: Rhus tox is helpful for immediate relief of back pain due to overwork.
Homeopathy medicine for spinal cord: Phosphorous is again the best homeopathic remedy for back pain and spinal cord affecting.
Homeopathic medicine for leg pain: Rhus tox and Bryonia, arnica, Natrum Mur and all other medicine explained above are useful for leg pain. However, in homeopathy remedy must differentiate based on individual symptoms.
Low Back Pain Homeopathic Remedy Finder:
Keeping the above causes in view, the Homeopathic remedy finder for back pain is composed. On observing no of patients, we developed this simple remedy finder for back pain.
[wp_quiz id="335″]