Hair falling Homeopathic Remedy selection:
Finding Hair falling Homeopathic remedy using simple questionary
[huge_it_share]
Hair loss or Hair fall is nothing but falling in hair. It can be called broadly as Alopecia. which can be identified by thinning hair? There are various causes for hair loss. But genetic factor is important in Hair falling.
You feel your hair is getting thin when there is an increase in fall than generated hair follicle. Daily some of your hair follicles get dead and fall out. In the same way, some more hair follicles take birth. This ratio is 1:9. when this ratio of falling and generation is altered you may feel that you are losing hair.
Using this simple questionary you can select your own Homeopathic remedy for hair falling. I have prepared this questionary on observation of many hair loss patients in my clinic.
Please select the most applicable symptom in your case. I can suggest you best Homeopathic hair fall cure remedy.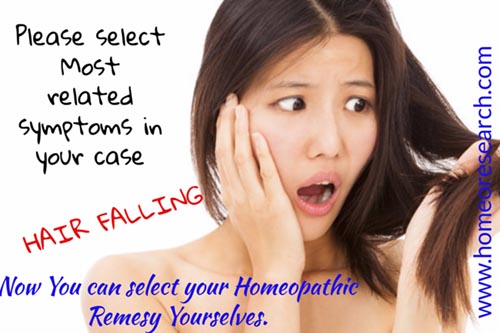 Let me know more about your HAIR LOSS?
Do you have Any Other Complaints apart from Hair Falling?