Erectile Dysfunction Homeopathic Remedy
|
Find Your Erectile Dysfunction Homeopathic Remedy:
Simple questionnaire is developed on observing number of patients. This tool certainly help you to find your best remedy for Erectile problem. Erectile Dysfunction due to psychological and organic cause are taken into account.
Impotency causes like age,diabetes, kidney problems, drugs, neurological disorders, alcoholism and smoking are all considered. This tool is designed keeping view of above all Impotency causes.
Homeopathy remedy for erectile problems are most effective. There are many medicines in Homeopathy for erection defect.
Erectile dysfunction is also called impotency. It is nothing but inability to erect the penis for sexual performance.
Please select most appropriate symptoms from the below questionnaire. I can suggest you best Homeopathic remedy for Erection problem. 
Please let me know the Symptom most specific to your Erectile Dysfunction.Select Below?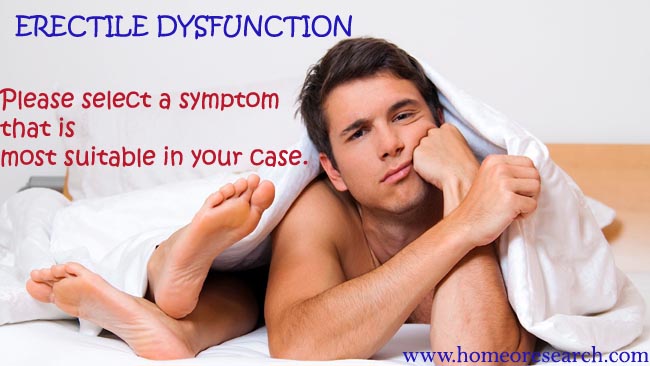 Let me know Do you have any other Complaints apart from Erectile Dysfunction.?
How to take Homeopathic Medicines?
Homeopathic Potencies must be taken in pills form. 2 - 6 Pills as prescribed must be taken into bottle lid or on to a dust free paper and then taken into mouth to chew the medicine until it is dissolved.
How many day I have to take the medicine?
Generally Homeopathic Physician will prescribe to take the main dose in only a single dose. that means take only 2-6 pills as Homeopathic doctor prescribed and don't take the next dose until the doctor suggested you to take.
How may days I have to wait after taking single dose of Homeopathic Medicine?
Homeopathic Doctor will suggest you to wait for at least 10 days in case of Chronic diseases. It is always better to wait as long as your symptoms are disappearing. In case of Acute diseases you need to wait for 5 minutes to one hour or one day according to the severity of Symptoms.
What next I have to do after single dose?
You need to wait for the period as doctor suggested. after that Doctor will suggest you next remedy according to the result from first prescribed dose.